About Us
We are passionate about wild brook trout, and the need for our work to keep brook trout on the map has never been more important.

What is the Eastern Brook Trout Joint Venture?
The EBTJV is a network of fisheries managers, scientists, nonprofits, state and federal agencies, regional and local governments, businesses, conservation organizations, academia, scientific societies, and Tribal organizations that is working to conserve healthy populations of brook trout in the eastern native range. We work collaboratively with partners at multiple geographic and jurisdictional scales to reverse the declining trend for wild Brook Trout, and are one of the twenty members of the National Fish Habitat Partnership.
What does the EBTJV do?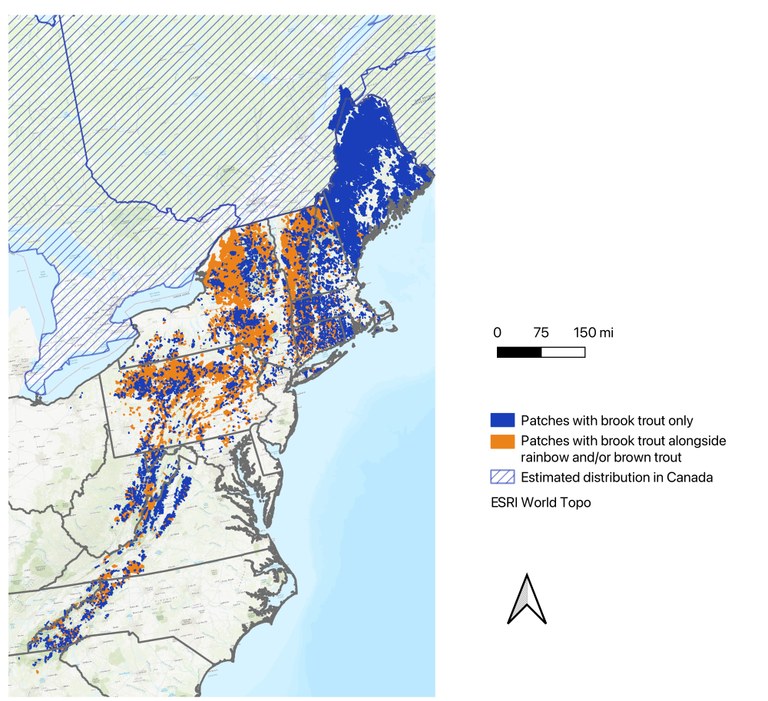 We are the only conservation organization devoted entirely to wild brook trout and its role in coldwater systems. 
Our assessment of brook trout by catchment and patch in the eastern native range is widely utilized by conservation groups and funding programs, such as Trout Unlimited and NFWF. 
We identify priority needs, and develop and support valuable decision-support tools.
We provide funding for projects to conserve wild brook trout populations from Georgia to Ohio to Maine, through the US FWS and NFHAP.
We connect managers and scientists to each other and to the public and watershed groups via webinars, meetings, and other educational methods.
This work allows us to ensure the best approaches are used to protect, restore, and enhance habitat for wild brook trout.
What you can do
Are you part of an organization, business group, or governmental entity that might have an interest in joining EBTJV? To support these collaborative efforts, the EBTJV Steering Committee has adopted a formal Management Structure and all active partners have signed a Memorandum of Understanding (MOU). The MOU affirms a voluntary commitment to participate in this Fish Habitat Partnership. Continued expansion of the partnership will allow the EBTJV to represent all interested partners in advancing the partnership's strategic priorities. If your organization would like to become a formal member of the EBTJV, please view the MOU and contact EBTJV coordinator, Lori Maloney, at lori.maloney@canaanvi.org for next steps.
Not with an organization - that's ok!  If you would like to learn more about what you can do, please go here. Also, connect with us via email to receive news and notifications in your inbox! 

EBTJV Steering Committee Members
State Agency Members:
BrianEltz/Matt Goclowski/Andrew Bade – CT Department of Energy &Environmental Protection
Sarah Baker – GA Dept.of Natural Resources
Dan Goetz/ Matt Lawrence – MD Dept. of Natural Resources
Jake Rash – NC Wildlife Resources Commission
Merry Gallagher – ME Dept. of Inland fisheries and Wildlife
Colby Denison/Dalton Courtemarche – NH Fish and Game
Ross Shramko – NJ Division of Fish and Wildlife
Greg Kozlowski/Fred Henson – NY Dept. of Environmental Conservation
Jason Detar – PA Fish and Boat Commission
Corey Pelletier – RI Department of Environmental Management
Dan Rankin - SC Department of Natural Resources
Jim Habera – TN Wildlife Resources Agency
Brad Fink - VA Department of Game & Inland Fisheries (follow link in his name for interview)
Lee Simard/Maureen Lynch – VT Fish and Wildlife Department
David Thorne – WV Division of Natural Resources
Federal Agency Members:
Callie McMunigal – US Fish and Wildlife Service
Stephen Faulkner – US Geological Survey
Nat Gillespie – US Forest Service
Matt Kulp – National Park Service
NGO's:
Jud Kratzer – American Fisheries Society
Shawn Rummel – Trout Unlimited
Glenn Erikson – Federation of Fly Fishers
Geof Day- Sea Run Brook Trout Coalition
EBTJV Leadership:
Jake Rash (NCWRC) – S.C. Chair
Callie McMunigal (FWS) – Exec. Comm
Lori Maloney (Canaan Valley Institute) - Coordinator
EBTJV Member at-large:
Steve Perry 
Document Actions