On-the-ground projects
We are proud of the projects of our partners. We help facilitate habitat restoration across the 17-state US native brook trout range by an annual funding program through the National Fish Habitat Partnership and the US Fish and Wildlife Service.
Since 2006, the EBTJV has facilitated 98 on-the-ground native brook trout habitat improvement projects.  US Fish and Wildlife Service allocated more than $3.7 million to the EBTJV in support of ninety-seven Brook Trout conservation projects, while project partners contributed $20.4 million.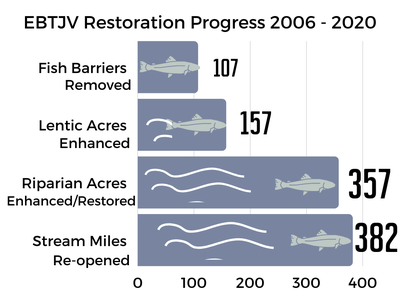 Hundreds of organizations have been involved in these projects, including NGOs, state agencies, federal agencies, watershed groups, indigenous tribes, businesses, educational institutions, and local governments. 
These projects have removed 107 barriers, reconnected 382 miles of stream, and enhanced or restored 357 acres of riparian habitat!