Lunch n'Learn: Importance of isolation, drift, and genetics for conservation of native Brook Trout
Feb 6, 2023, noon, available by registration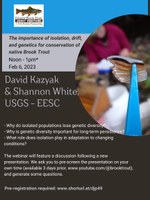 When
Feb 06, 2023
from

12:00 PM

to

01:00 PM

Where

Zoom

Contact Name
Lori Maloney
Add event to calendar

vCal




iCal
 EBTJV is proud to announce the first edition of "Swimming with Science," a lunch n' learn series. This is an exciting opportunity to discuss the state of science as it applies to brook trout management, with experts. Registration required. For the upcoming webinar, we ask you to view the pre-recorded presentation first - available February 3 on our YouTube channel.
We also invite you to submit questions in advance.
The importance of isolation, drift, and genetics for conservation of native Brook Trout
Monday, February 6, 2023 | 12 - 1 p.m. ET
Across their eastern range, thousands of populations of native Brook Trout are currently restricted to isolated habitats with little to no opportunity for gene flow. Small, isolated populations present special management considerations. From a demographic perspective, these populations are more likely to become extirpated, and there is no opportunity for natural recolonization. There are also unique challenges associated with the genetic management of isolated populations. This presentation will review our current understanding of isolation in wild Brook Trout, with a particular emphasis on how isolation relates to the prospects of wild Brook Trout. In particular, we will address the following questions:
- Why do isolated populations lose genetic diversity?
- Why is genetic diversity important for long-term persistence?
- What role does isolation play in adaptation to changing conditions?
This discussion is designed for conservation practitioners, managers, and the science community that supports brook trout management. Other audiences are welcome.
We hope you can join us and please feel free to share this announcement broadly.  Please register using this handy REGISTRATION LINK.
About David Kazyak, PhD.
 Dr. Kazyak is a research ecologist at the USGS Eastern Ecological Science Center where he co-directs the Conservation Genetics and Genomics Laboratory. His research applies quantitative approaches in conservation genetics and population dynamics to provide decision-relevant information for imperiled species. Dr. Kazyak's current projects use cutting-edge genetics tools to identify biologically-appropriate management units, measure rates of gene flow, and characterize how isolation, genetic drift, and hatchery supplementation impact wild populations. He also is working to develop novel approaches to census imperiled fishes and using stochastic simulation models to understand how environmental change may influence population dynamics.
About Shannon White, PhD.
Shannon is a fisheries ecologist who combines molecular technologies, novel field methods, and advanced statistical modeling to provide decision-relevant information for species of conservation concern. Much of her research focuses on understanding and mitigating anthropogenic threats to coldwater and anadromous fishes.