Cross Brothers Dam Removal, Northfield VT
Vermont Natural Resources Council will remove a dam and restore stream habitat on one of the most popular trout rivers in Vermont.
Vermont Natural Resources Council received FY22 EBTJV funding through the National Fish Habitat Partnership and US Fish and Wildlife Service to support Brook Trout habitat restoration and river reconnection on the Dog River in Northfield, VT.

EBTJV funds will be utilized to support the restoration of the Dog River through the removal of the Cross Brothers Dam and restoration of the river reach.  The project will restore natural stream channel processes that allow water, sediment, dissolved oxygen, instream wood, and aquatic organisms to move freely. The possible gains to watershed health associated with this project are particularly valuable due to the existing degradation in the catchment from human development associated with a high number of artificial in-stream barriers, and impervious surface adjacent to the river system (Downtown Northfield). 
The combined goals of dam removal, in-stream channel restoration, tree planting, and floodplain restoration will improve cold-water habitat for native, wild Brook Trout, an important species to the Dog River, the community of Northfield, and the State of Vermont.


Project lead: Vermont Natural Resources Council
Project cost: $564,000
EBTJV/NFHAP funding: $100,000
Partner funding: $464,000
Project Objectives:
1) To remove the Cross Brothers Dam and return the river to free-flowing conditions;
2) Restore aquatic organism passage to 24 miles of river upstream;
3) Manage impounded sediment, thus protecting existing highway bridge abutments immediately upstream as well as needed streambank stabilization;
4) Facilitate public access to water-based recreation;
5) Educate the public regarding the benefits of dam removal for fish passage; and,
6) Improve existing Wood Turtle habitat by supporting natural channel evolution.
This project builds upon other adjacent and connected habitats that have recently been restored to improve wild Brook Trout. Dam removal will improve public recreation access on one of the most popular trout rivers in VT. This is a high priority dam removal with local support. The combined benefits of the improved public access and restored fish habitat will benefit the town as people will seek out this location for fishing and other water-based recreation.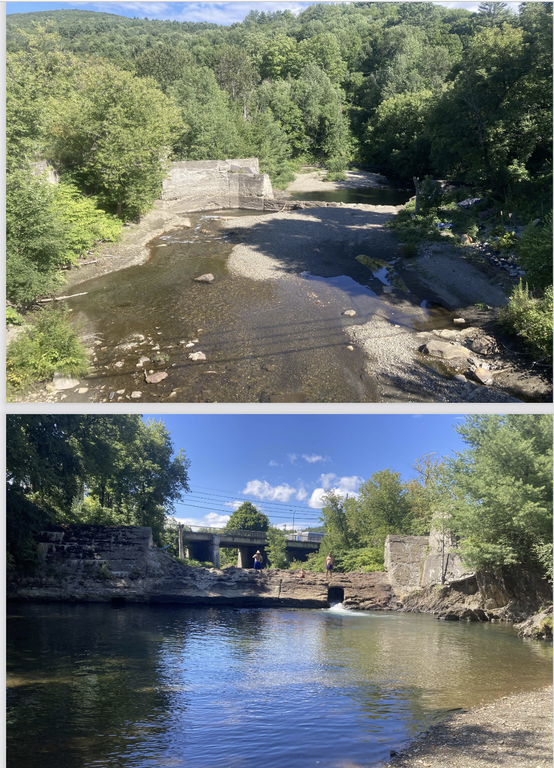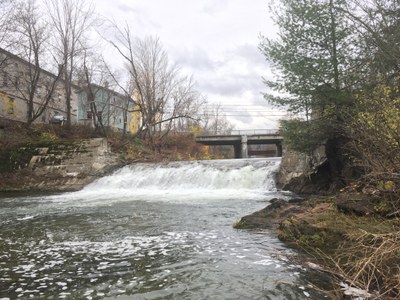 Photos looking upstream at the dam, credit VNRC