Camp Wihakowi Dam Removal Bull Run, Northfield, VT
Camp Wihakowi Dam Removal Bull Run, Northfield, VT
| | |
| --- | --- |
| Project Start Date | |
| Project Leader | |
| Organization | |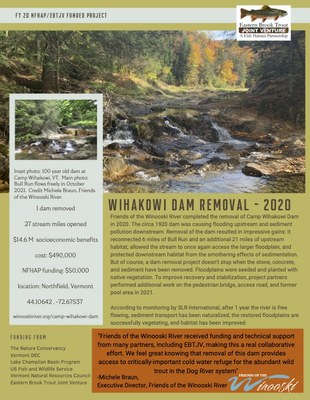 Friends of the Winooski River (FWR) proposes to remove the Camp Wihakowi Dam and the impounded sediment to restore a natural channel, bench, floodplain access, and aquatic organism passage to approximately 27 miles of upstream cold water habitat.
The Camp Wihakowi Dam creates an impoundment and barrier to aquatic organism passage on Bull Run in Northfield. The dam was built circa 1920 to create a swimming and rowing pond for a youth summer camp. A small portion of the dam was breached in the late 20th century, but the dam continues to hold more than 30,000 cubic yards of accumulated sediment behind it. During heavy rain events, the dam is reported to exacerbate upstream flooding, causing severe erosional damage to land and infrastructure, as well as transporting sediment downstream, deteriorating habitat in the Dog River.
Bull Run is free-flowing for 6.3 miles from Beaver Pond in Roxbury State Forest to the Camp Wihakowi Dam, and below the Dam for one mile to the confluence with the Dog River. Bull Run contains abundant Brook Trout upstream and downstream of the Camp Wihakowi Dam, and it is classified by the State of Vermont as very high quality aquatic habitat. Removing the Camp Wihakowi Dam would restore fish passage to at least 6.3 miles of main stem river (third order or larger), as well as about twenty more miles in smaller tributaries for a total of 27 miles of upstream habitat reconnected.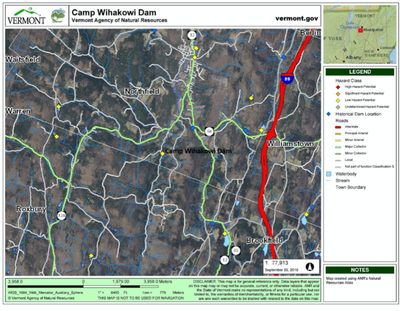 Urbanization and Infrastructure
Rivers and Streams
Aquatics
Associated Locations
| Town | zip code | county | state | congressional dist |
| --- | --- | --- | --- | --- |
Barriers
| Name of barrier | Latitude | Longitude | FONS ID | FIS Project ID | FWS Acc. # |
| --- | --- | --- | --- | --- | --- |