Brook trout healthy waters brochure
It's a win-win.
We are taking requests for small numbers of printed copies of the brochure Brook Trout and Healthy Waters: a Win-Win, produced earlier this year with the West Virginia Rivers Coalition. EBTJV's ability to print and mail copies to your organization will depend on pending grant funds, and your request helps us know what level of interest exists. The brochure is aimed at the general public, especially landowners. It talks about actions to take to help brook trout, and includes an additional full page panel map of brook trout in the Eastern range.
Please download, print, and share this publication via the link in the image.  To receive a publishing quality proof to print professionally, please email the coordinator lori.maloney@canaanvi.org.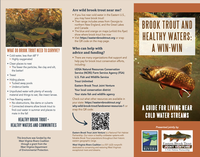 This brochure was first developed and printed in partnership with the WV Rivers Coalition under a WV DEP 319 grant. The Catachafire Foundation provided writing assistance.