EBTJV names Jake Rash new Chairman
In December 2022, the Steering Committee of the Eastern Brook Trout Joint Venture approved Jacob "Jake" Rash as its new Chairman.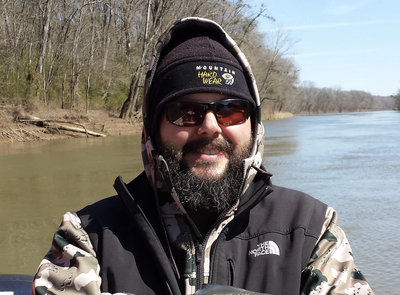 Jake is the Coldwater Research Coordinator for the NC Wildlife Resources Commission, where he assists with the coordination of applied research and management of the state's trout resources. He has been involved with the EBTJV since 2010. Upon his appointment, he said "I am looking forward to my new role as Steering Committee Chair, which will allow me to continue working with the EBTJV to help conserve brook trout throughout its native range."
Jake has co-authored numerous publications on data-driven brook trout management. When asked about the value of fish biologists, especially fellow EBTJV Steering Committee members, he didn't hesitate to call them superstars: "we're so fortunate to have such a diverse, talented, and committed group of folks working together to help this amazing fish."
Jake succeeds prior Chair Nat Gillespie, who served for six years (completing three consecutive terms, the most allowed in EBTJV's guidelines). EBTJV's Coordinator Lori Maloney notes, "Nat has contributed immensely to EBTJV since its inception in 2004. He has also worked hard to build awareness of brook trout as a species worthy of protecting - not just for its own sake and cultural importance, but also for its position as an indicator of watershed health. We are fortunate that he is able to remain on the steering committee as a representative from the US Forest Service."
Nat Gillespie is the Assistant National Fish Program Leader for the US Forest Service in their Washington, DC headquarters. He served as the EBTJV Steering Committee Chair from 2017-2022. Read his reflections on brook trout conservation here.
The EBTJV is a geographically focused, locally driven, and scientifically based effort that uses a non-regulatory approach to protect, restore and enhance aquatic habitat throughout the range of the eastern brook trout. EBTJV is one of 20 entities in the National Fish Habitat Partnership.