Improving Connectivity for Reintroduced Native Brook Trout in Trail Fork of Big Creek, Cocke County, TN
Trail Fork of Big Creek, TN
| | |
| --- | --- |
| Project Start Date | |
| Project Leader | |
| Organization | |
Project Leader Organization Improving Connectivity for Reintroduced Native Brook Trout in Trail Fork of Big Creek, Cocke County, TN. Tennessee Wildlife Resources Foundation (TWRF), in partnership with Tennessee Wildlife Resources Agency (TWRA), Trout Unlimited (TU) and Cherokee National Forest (CNF) will remove and replace a double culvert crossing on Trail Fork of Big Creek (Trail Fork), Cocke County, TN with a structure that allows full aquatic organism passage. This replacement will create 2.5 miles of connected stream and support the reintroduction of native brook trout. This will restore native brook trout to Trail Fork, which is located in a catchment where they were previously extirpated, while also improving connectivity for the restored population.
There are two primary project objectives:
Restore a self-sustaining population native brook trout population in a 2.5 mile section of Trail Fork above a natural barrier blocking the upstream migration of non-native rainbow trout.
Remove a double culvert crossing on FSR3249 that would block the upstream passage of native brook trout and replace it with a natural bottom, bankfull spanning structure that allows natural passage of fish, woody debris and sediment. Along with this replacement, stream simulation will be used to rehabilitate affected areas upstream and downstream of the current crossing.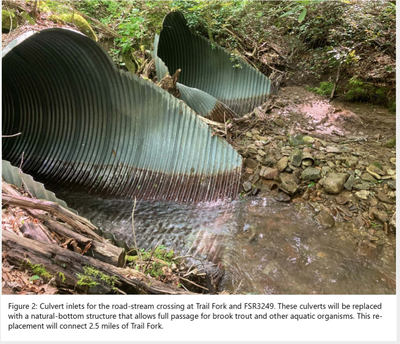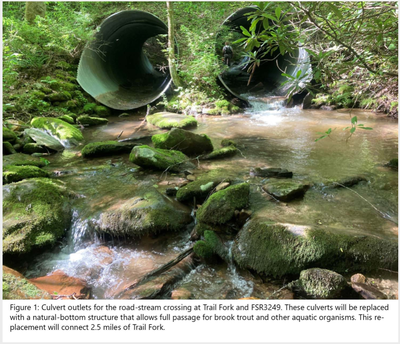 This project helps conserve brook trout by restoring a population of native brook trout in a catchment where they had previously been extirpated. The new population will increase brook trout distribution within the French Broad River watershed by 30% (2.5 miles). It is being established with native brook trout from an adjacent catchment with comparatively unique genotypes, thus will help conserve these as well. The project also removes an aquatic passage obstruction and rehabilitates the affected section of stream, increasing connectivity, providing more suitable habitat, and allowing for the free passage of large wood and sediment.
Climate Change Impacts, Geographic Isolation
Rivers and Streams
Aquatics, Climate Change
Conservation Design
Aquatic Resources, Climate Change Science
Fish
Associated Locations
| Town | zip code | county | state | congressional dist |
| --- | --- | --- | --- | --- |
Barriers
| Name of barrier | Latitude | Longitude | FONS ID | FIS Project ID | FWS Acc. # |
| --- | --- | --- | --- | --- | --- |