Lee Simard profile (VT DFW)
Lee became EBTJV's new Vice Chairman in March 2023.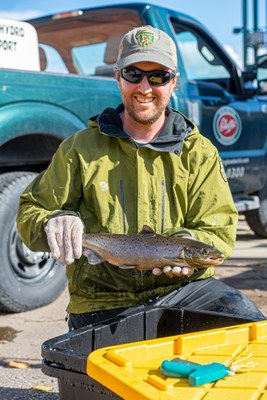 In March, the EBTJV Steering Committee elected Lee Simard its new Vice Chairman. 
Lee Simard is a Fisheries Biologist with the Vermont Fish and Wildlife Department. Lee earned his B.S. in Environmental Sciences and MS in Natural Resources from the University of Vermont and began working for the VFWD in 2017.  Lee's work primarily focuses on inland waters in Vermont, especially wild trout management where he oversees projects in the northwest corner of Vermont but also coordinates statewide efforts.  He is also involved in management of Lake Champlain fisheries including Lake Sturgeon and Landlocked Atlantic Salmon.  Lee gets very excited being able to work with such a broad variety of species while managing fisheries for people in Vermont.  Lee has been a member of the Eastern Brook Trout Joint Venture since 2018 and is excited to step into the new role.
Lee replaces Jacob Rash, who became the EBTJV Chairman in December 2022, following the end of the term limit for prior Chairman Nat Gillespie.